2020 Youth Award Honorable Mention- Abigail Skowronek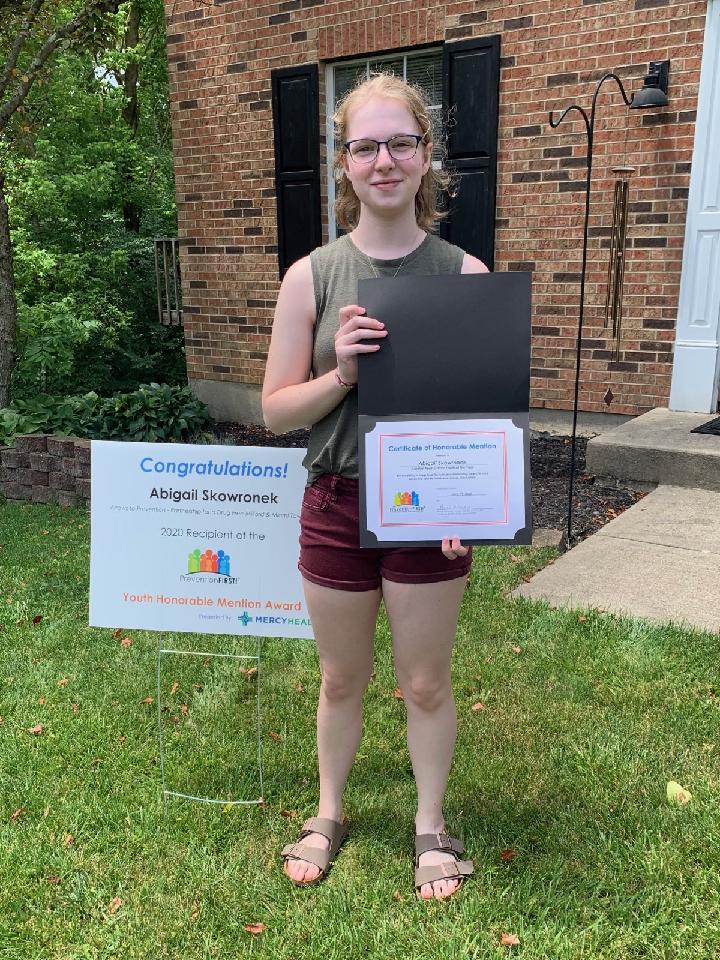 Carolyn Ford-Griffith Youth of the Honorable Mention – This award is presented to a student, or group of students from the tri-state who modeled a drug-free lifestyle, taken an active role in substance use/misuse prevention in their community, and encouraged their peers to be active in substance use/misuse prevention.
---
Abigail Skowronek is a recent graduate of Milford High School in Milford, Ohio. Abigail is an avid reader. When she isn't glued to her latest book series, she's either studying for her next test or drafting sketches for paintings she'll probably never create. She has been involved with her school's drug-free coalition- Arrows to Prevention since the end of her freshman year. During her junior year she became more active year after becoming the president of Arrow to Prevention. She also attends the Partners for a Drug Free Milford – Miami Township offering input from a student perspective and acting as a liaison to her school. In 2019, Abigail started, organized, and led a drug-free coalition at Milford Junior High School in order to combat the use of drugs in progressively earlier age groups.
Abigail has won grants to attend conferences and trainings such as the Youth to Youth International Conference and a training on the effects of prescription drug abuse. Most recently, she won a small college scholarship. She is also an active member of the MHS National Honor Society. Through the honor society, she become more involved around her community and school through volunteer work and service projects—most of her volunteering had to do with drug abuse prevention. In addition to her work in the drug-free coalition, Abigail was also the president of the high school art club during her senior year and was in charge of organizing and leading a mural project, though it was interrupted by current events. Moving forward, Abigail is going to be attending the University of Cincinnati's biomedical engineering program starting this fall.