Luke Watson: Ford-Griffith Youth Award Winner 2021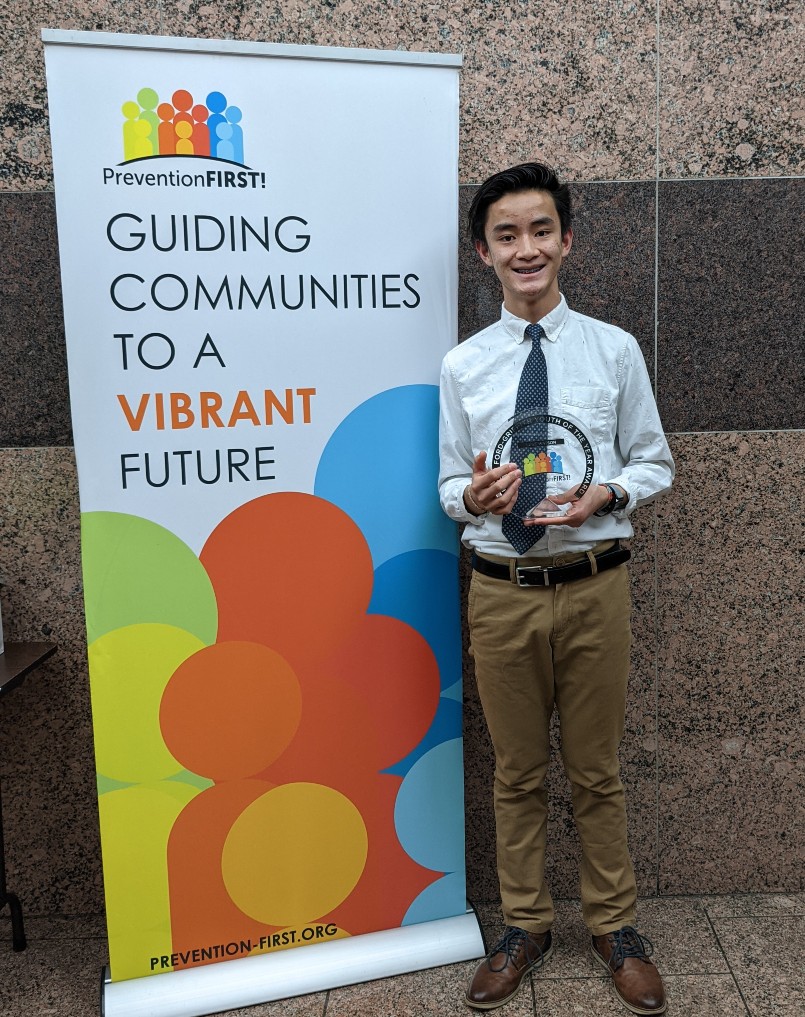 Carolyn Ford-Griffith Youth of the Year Award – This award is presented to a student or group of students who have advanced substance use/misuse prevention by modeling a healthy lifestyle, promoting and implementing evidence-based prevention in their community and motivating their peers to take an active role in substance use/misuse prevention.
Luke Watson
Loveland High School
Luke Watson is a freshmen Loveland High School and has been an enthusiastic member of the LEAAD (Loveland Educating Against Alcohol and Drugs) Youth Ambassador Coalition for three years. Luke models a healthy lifestyle by engaging in activities that promote a healthy life such as school athletics, organizing foosball tournaments with local youth ambassadors, and participating in leadership conferences to improve the methods and message of sharing prevention with his peers.
Luke attended the 2019 PreventionFIRST! Red Ribbon Week Youth Summit at Xavier University. At the event, Luke and fellow Youth Ambassadors developed a campaign to help create a positive school culture/environment at Loveland High School. The campaign focused on helping students feel encouraged, supported, and empowered during stressful midterms and dreary winter times. This past year, Luke volunteered six plus hours to create a virtual youth summit to educate fellow peers from the tri-state area on leadership skills, coping skills, mental-wellbeing, diversity, inclusion, and drug/alcohol misuse prevention.  These are just a few of the numerous prevention and leadership roles Luke has taken on to assist with helping his community be the safest and most supportive place for young people to grow up in.
Finally, Luke has taken an active role in promoting youth centered prevention strategies. He encourages other students to participate and has the forward thinking to recognize that mental health is an important component of prevention work. Luke is a member of the Ohio Youth Council. He has been working with peers throughout the state to bring prevention strategies to the forefront.
"One thing I love about prevention work is I get to help teens my age makes healthy choices. I want teens to know t they can turn to healthy coping mechanisms instead of drugs and alcohol. I also love that I get to work with other teens who have the same common goal." — Luke Watson