2020 Bonnie Hedrick: Portman Leadership Award Winner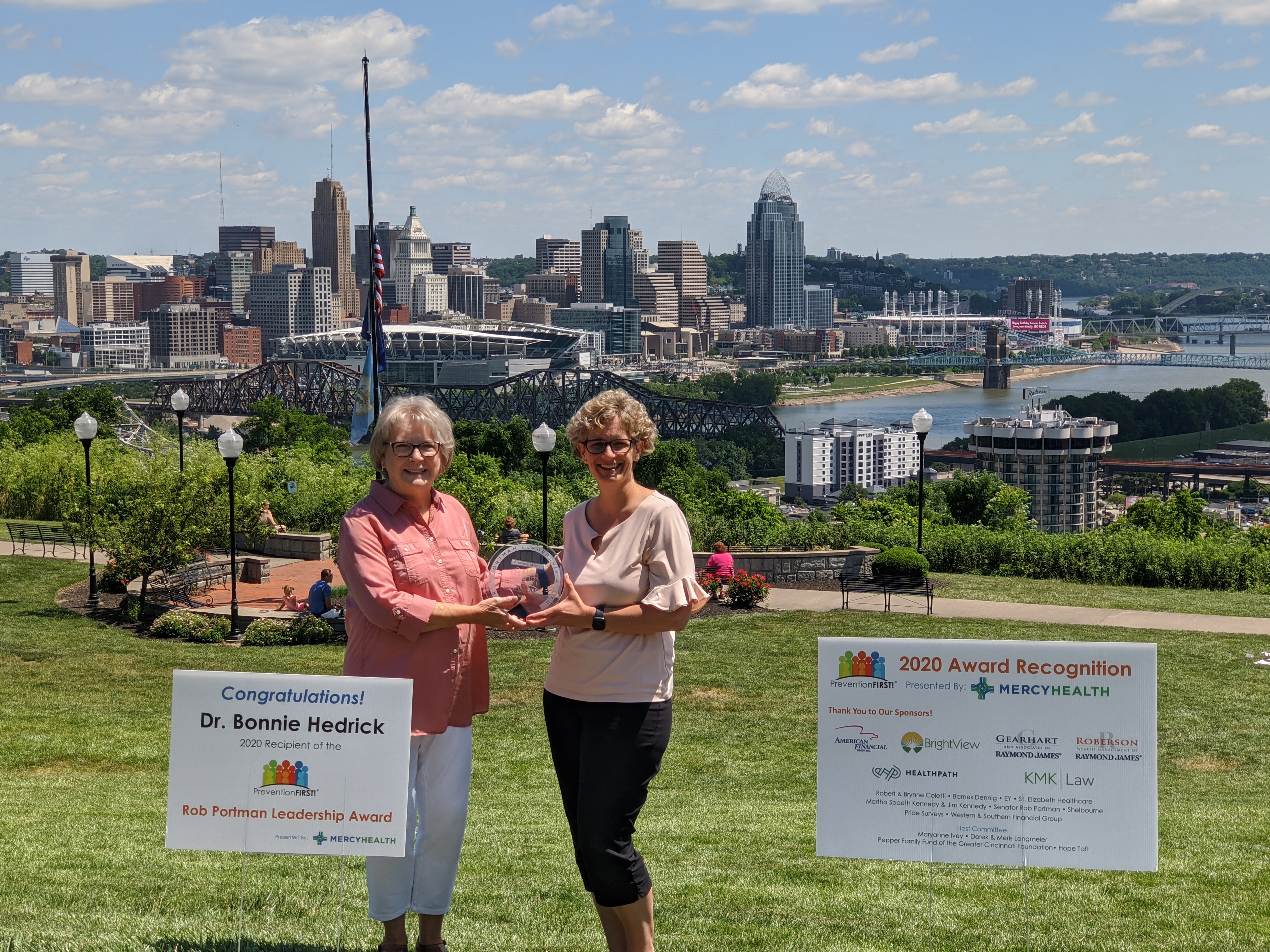 Rob Portman Leadership Award – This award is presented to an individual from the tri-state who has demonstrated leadership at a systems level, influenced a community or organization to take action, and supported and/or advanced substance use/misuse prevention.
---
Trained in health education and behavioral health, Dr. Bonnie Hedrick's work history has centered on substance use prevention, treatment, and recovery. It dates back to 1986 when she joined Cincinnati's first drug prevention coalition — Citizen's Against Substance Abuse (CASA), which started as a task force convened by Cincinnati Mayor Luken and led by former Ohio First Lady, Hope Taft.   As a CASA volunteer, Dr. Hedrick served on the Advisory Board and wrote the first Drug Free Communities grant awarded in Cincinnati. She also co-led Teen CASA which engaged over 125 youth annually in drug-free alternative activities, community service, and training. 
In 1991, Senator Rob Portman and other community leaders reconvened Cincinnati's prevention partners and founded the organization known today as PreventionFIRST!  Dr. Hedrick helped successfully apply for a second Drug Free Communities grant which funded prevention efforts for 10 years.
During this same time, she was employed by the University of Cincinnati as Director of the Ohio Resource Network.  She trained health education students and deployed prevention specialists across Ohio's 88 counties to provide training on safe and drug free schools. Additionally, she worked on state policy, developed an e-based academy for professional continuing education; and served as the lead writer on the Ohio School Climate Guidelines — approved by the Ohio School Board in 2005.  
She retired in 2011 from UC. Currently, she works three days a week at St. Elizabeth Healthcare. One of her most recent endeavors is acting as principal investigator on a Robert Wood Johnson grant with Xavier's Center for Population Health.  She chairs PreventionFIRST!'s Evaluation Committee and recently authored the Foundations in Prevention curriculum and three e-based courses on the connection between substance use prevention and social and emotional learning in schools.  She teaches at NKU and has co-author on two books. Dr. Hedrick serves as a consultant to Leadership to Keep Children Alcohol Free, the NKY Heroin Impact Response Task Force (HIRT), and Mental Health America.