---
---
PLATINUM CIRCLE ($100,000 AND ABOVE)
Ohio Department of Mental Health and Addiction Services
Hamilton County Mental Health and Recovery Services Board
---
GOLD CIRCLE ($50,000 TO $99,999)
Interact for Health
Robert and Adele Schiff Family Foundation
U.S. Substance Abuse Mental Health Services Administration
---
SILVER CIRCLE ($25,000 TO $49,999)
PNC Charitable Trust
City of Cincinnati – Human Services Fund
---
AMBASSADOR CIRCLE ($5,000 TO $24,999)
Charles H. Dater Foundation Inc.
The Drees Foundation
Western and Southern Financial Group
---
PARTNER CIRCLE ($2,500 TO $4,999)
BrightView
Keating, Muething, and Klekamp, PLL
Marcia Spaeth & James Kennedy   
Raymond James Financial, Inc.   
St. Elizabeth Healthcare 
---
ADVOCATE CIRCLE ($1,000 TO $2,499)
Blank Rome LLP   
Cincinnati Police Department   
Mr. and Mrs. Kyle Gearhart
Pepper Family Fund of the Greater Cincinnati Foundation   
Sen. Rob Portman
Prevention Action Alliance 
Pride Surveys, Inc.    
Patricia Neal-Miller   
Dr. Shawn Ryan   
Union Savings Bank 
---
FRIENDS CIRCLE ($500 TO $999)
Barnes Dennig   
Stayin' Alive, Franklin County LCC   
Mr. and Mrs. Ronald Christian   
Mr. and Mrs. Robert Coletti   
Mr. Daniel Cummins   
Dressman Benzinger LaVelle psc   
Ernst and Young   
Mr. Michael Lake   
Sinclair Broadcast Group - WKRC TV   
Mr. Patrick Roberson   
Robert A. and Marian K. Kennedy Foundation  
The Benevity Community Impact Fund   
Mr. Tim Volpenhein   
Mr. and Mrs. David Wallace   
Mr. and Mrs. Nathan Wander   
Dr. Kathy Wedig-Stevie   
Mr. Steve Wesselkamper 
---
SUPPORTERS ($1.00 TO $499)
Dr. Richard Aft   
Ms. Shakila Ahmad   
Amazon Smiles   
Anonymous   
Ms. Krista Boyle   
Dr. Michael Brubaker   
City of Springdale   
Mr. Matthew Clayton   
Dearborn County CASA (Community Advocating for Substance Abuse Awareness)  
Hon. and Mr. Carolyn Duvelius   
Ms. Mary Ann Ellerbrock   
Ms. Tristyn Eppley   
Mr. Joshua Fortin   
Mr. and Mrs. James Freytag   
Mr. Jay Gohman   
Graham Holdings Matching Gift Program   
Mr. Enrique Guemez   
Hamilton County Sherriff   
Robert A Harber Family Charitable Fund   
Mr. and Mrs. Lawrence Herbst   
Mr. Stephen Hester   
Ms. Kathyrn Hill   
Mr. Tony Hyott   
Rep Catherine Ingram   
Mr. and Mrs. Keith Johnson   
Ms. Catherine Kennedy   
Ms. Jessie Kinney   
Ms. Elizabeth Knuppel
Kroger Rewards   
Mrs. Julia Kyser   
Dr. Beatrice Lampkin   
Mr. Robert Lesan III   
Ms. Kim Linkel   
Mr. Derek Longmeier   
Loveland Educating Against Alcohol & Drugs   
Mrs. Melissa Mann   
Capt. Maurice Robinson   
Mr. and Mrs. Troy Neat   
Mr. and Mrs. Tom Noonan   
NKY Independent Health Department   
Mr. Kenneth Parker   
Ms. Sara Rorer   
Mr. Daniel Schloemer   
Mr. Steve Schultz   
Ms. Mary Schwaderer   
Ms. Judith Sclafani   
Hon. Amy Searcy   
Mr. David Stelzer   
Mr. Richard Stevie   
Ms. Tamara Sullivan   
Mrs. Hope Taft   
Ms. Elizabeth Osinbowale   
University of Cincinnati Campus-Community AOD Coalition   
Mrs. Linda Verst   
Ms. Mary Washburn   
Mr. and Mrs. Jean Wesseler   
Ms. Emily Wherle   
Mr. Ryan Whitaker   
Ms. Mary Wolff   
2020 Sponsor & Awards Recognition Video
2020 PreventionFIRST!
Sponsor & Awards Recognition Video

Our annual luncheon has always been an exciting and meaningful event for PF! Recognizing our sponsors and award winners is important to us. This video is our opportunity to celebrate the great prevention accomplishments of award winners and
identity our sponsors to as big of an
audience as possible.
Thank You Host Committee

Marianne Ivey
Hope Taft
Derek & Meris Longmeier
Pepper Family Fund of the Greater Cincinnati Foundation
Fundraising
Kroger Community Rewards
Shop at Kroger, use your Kroger Plus Card, and support PreventionFIRST!

When you designate PreventionFIRST! as your beneficiary, each time you shop we receive a portion of your grocery total. Visit www.Kroger.com to get started.
---
Amazon Smile
Support PreventionFIRST! every time you shop with Amazon. Through the Amazon Smile program, Amazon donates a percentage of the price of eligible items to PreventionFIRST!

Visit www.smile.amazon.com

1. Sign in/create your Amazon account
2. Search "Coalition for a Drug Free Greater Cincinnati" (PreventionFIRST!)
3. Select the Coalition as your beneficiary
Corporate Giving Opportunities
Matching Gifts
Employers offering matching gifts allow employee contributions to have greater impact by matching your gift to PreventionFIRST! Your employer match can double, triple or even quadruple the amount of your gift. If you or your spouse work for a matching gift company, please consider having your gift to PreventionFIRST! matched.
---
Workplace Campaigns
Workplace giving campaigns offer payroll deduction for the convenience of donors. Donors often find this option an easy way to support PreventionFIRST!. See your company's human resources department for more information on your employer's workplace giving campaign.
---
For More Information:
Angela Cowart, Development Coordinator
acowart@prevention-first.org
513-751-8000 ext. 20
Awards Nomination
Now Accepting Award Nominations!
Deadline EXTENDED to February 25, 2020!
Now is your chance! Nominate someone who deserves to be recognized for their contribution to prevention substance use/misuse in our community!
Each year PreventionFIRST! recognizes individuals who contribute to advancing PF!'s mission and supports substance use/misuse prevention efforts. This year awardees will be celebrated at the PreventionFIRST! Fundraiser & Awards Luncheon on April 24, 2020.

2020 Community Awards Criteria
2020 Community Awards Nomination Form
---
Rob Portman Leadership Award is presented to an individual or organization from the tri-state who has significantly contributed to the advancement of our mission through support, influence or involvement in youth substance use/misuse prevention.
---
Rachel Hutzel Prevention Partner Award is presented to an individual or organization from the tri-state who has shown notable progress, results and/or innovation in youth substance use prevention. The winner of this award will have worked to implement prevention strategies and demonstrated outcomes and/or innovation as a result of their work.
---
Carolyn Ford-Griffith Youth Leadership Award is presented to a student or student group from the tri-state region who has modeled a drug-free lifestyle, taken an active role in youth substance use prevention, and motivated their peers to take an active role in youth substance use prevention.
---
For More Information:
Angela Cowart, Development Coordinator
acowart@prevention-first.org
513-751-8000 ext. 20
Get Involved
One person giving the gift of time adds great value to an organization.  Many local coalitions began with one person or a small group motivated to impact their community. There are several ways you can support and contribute to the work PreventionFIRST! does.
---
Connect with a local coalition
Neighborhoods with coalitions see lower incidences of youth substance use. The more community members active in a coalition, the stronger and more effective that coalition can be. 
See if your community has a coalition
---
Start a community coalition

For More Information: 
Amanda Conn Starner, Director of Community Engagement
aconnstarner@prevention-first.org
513-751-8000 ext. 13
A Special Presentation!
Mark Anthony Garrett
The Power of Prevention:
Who is Your Champion?

Each year, PreventionFIRST! and our community sponsors and partners gather to celebrate a year of accomplishments and present our annual community awards -- this is our one and only fundraiser. 
We were unable to celebrate in person this year, but we are fortunate to be able to share the talents of our planned Keynote Presenter, Mark Anthony Garrett, as a virtual webinar --  available at NO cost to you! 
---
Monday, June 15, 2020
12 - 1:30 pm
Register HERE!

* Prevention professionals can receive up to 1.5 hours of professional development
The Power of Prevention: Who is Your Champion?
This presentation will be an empowering message designed for those who serve and work within the wonderful world of prevention. Those in attendance will learn Success Principles designed for personal empowerment, organizational advancement, building capacity, strengthening teams, mastering emotions, inspiring others and operating with a spirit of excellence. In addition, participants will be given critical information on the psychology of what is needed to become a high-performance individual.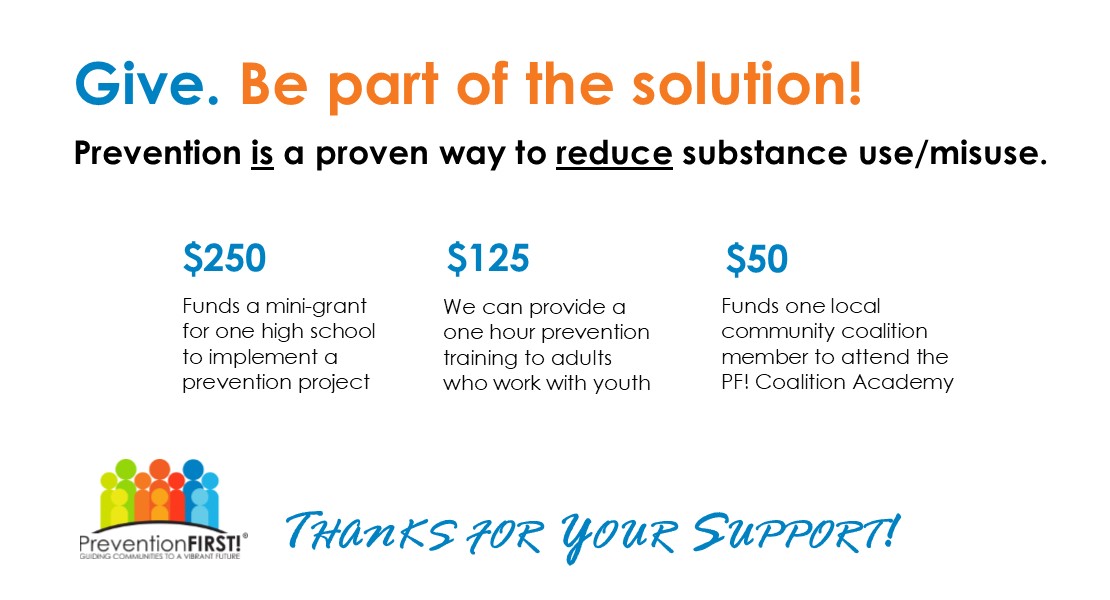 2019 Highlights

---
2019 Award Recipients
Rob Portman Leadership
Rachel Hutzel Prevention Partner
Dr. Kathy Wedig-Stevie, MD 
Carolyn Ford-Gritth Youth of the Year
Youth Honorable Mentions
Deer Park C. A.T. S.
Madison Bennington
Warren County Teen Alliance Council
---
Thank You to Our Sponsors
Partner Level
KMK|Law
Roberson Wealth Management of Raymond James 
St. Elizabeth Healthcare
Table Level
Gearhart & Associates of Raymond James
James & Marica Kennedy
Cincinnati Police Department
Pride Surveys
U.S. Senator Rob Portman
Friend Level
Barnes Dennig
Brynne & Bob Coletti
PreventionFIRST! Board  
12 WKRC-TV
---
2019 Host Committee
Hamilton County Sheriff's Department

Derek & Meris Longmeier

Honorable Kenneth Parker

Hope Taft
---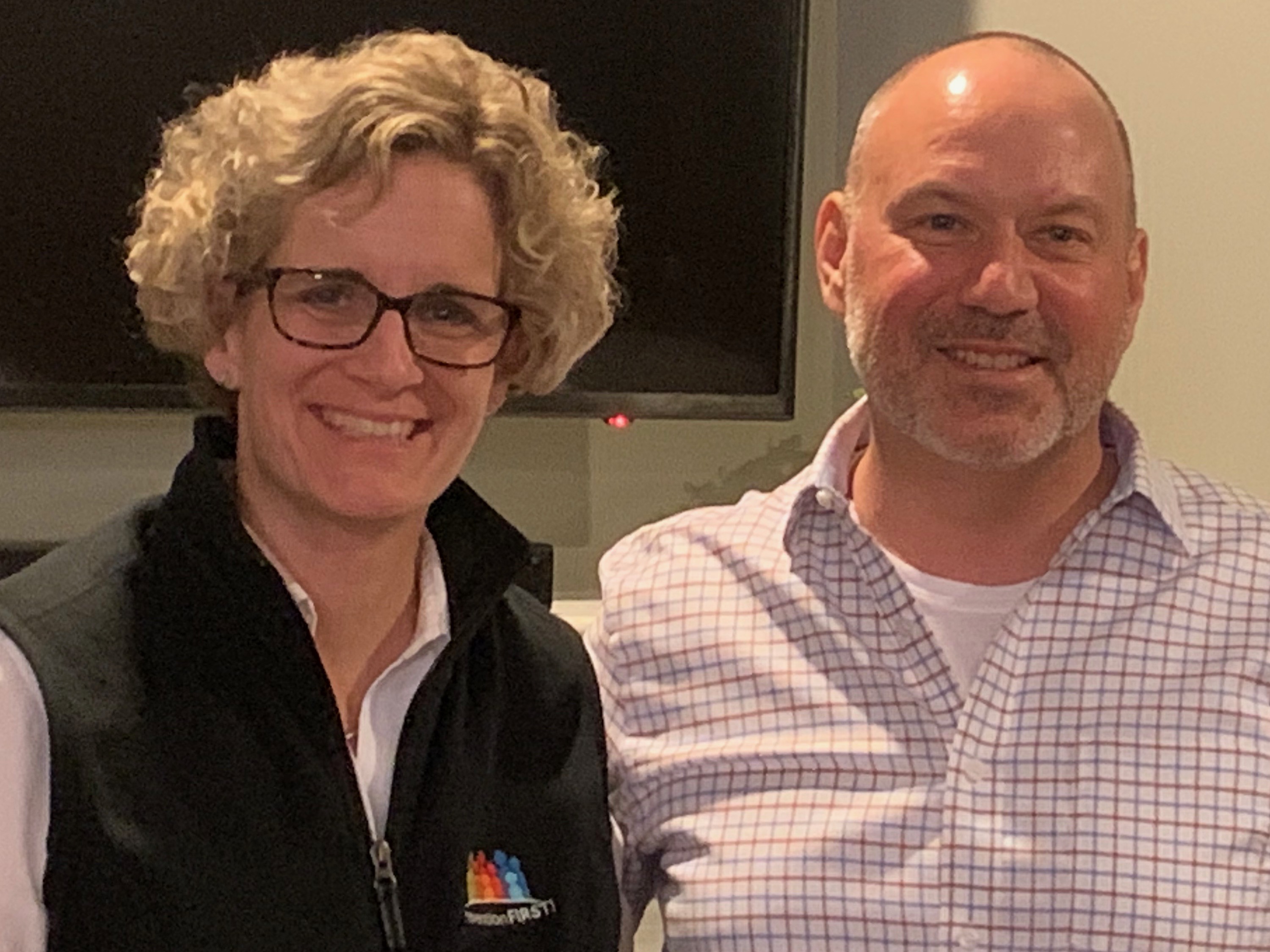 Host a Fundraising, Friendraiser or Awareness Event
Get involved and promote substance use/misuse prevention. Host a fundraising or friendraising event such as a house party, raffle, walk-a-thon, bake sale ect.

For More Information:
Angela Cowart, Development Coordinator
acowart@prevention-first.org
513-751-8000 ext. 20
Expect to be Motivated & Inspired!

Participants can expect to be motivated and inspired as it relates to making a positive difference in the lives of others. Furthermore, participants will be taught cutting edge strategies on building powerful relationships, inspiring children for greatness, developing a winning attitude and staying motivated through challenging times.
---
Presentation Goal: To provide a relevant, inspiring training message that reminds individuals of the tremendous value they bring to the world of Prevention and the difference they are making in the lives of those they serve.  The mission of this training is to create an atmosphere where individuals walk away with a greater since of Self-Efficacy.
---
Learning Objectives:
1.      For individuals to learn cutting edge strategies on self-empowerment
2.      How to rekindle your passion for the field of prevention
3.      How to become an unlimited value-added asset for your organization
4.      The importance of maintaining a passion for children
5.      How to unleash your inner champion and serve from the heart
One-Time Volunteer Opportunities
We have occasional need for help with one-time volunteer opportunities such as conferences, trainings, staffing tables at community events or mailings.
Interested in Volunteering:
Cathy Born, Administrative Assistant
cborn@prevention-first.org
513-751-8000 ext. 10
Introducing our speaker!
Mark Anthony Garrett
For over 20 years Mark Anthony Garrett has worked as a Top Level Consultant, Master Trainer and Professional Speaker for various businesses, child welfare agencies, education associations and K-12 school systems. He has motivated audiences through his electrifying speeches, training and transformational seminars. Mark is a leading expert within the Child Welfare and K-12 educational industry on such topics as Teacher Leadership, Cultural Pedagogy, Staff Retention, Motivational Empowerment, Leadership, Service Excellence, Overcoming Adversity, Youth Empowerment, Building Relationships and Maximizing Human Potential.  
Tribute Gifts
We are happy to acknowledge any gifts made on behalf of or in memory of someone.  
---
Planned Giving
A planned gift helps secure the future of prevention training and services we provide in our community, and may further your financial goals.  Individuals in a range of income levels have the power and capacity to leave a planned gift.  Planned gifts include life insurance, bequests, charitable gift annuities, charitable lead trusts and retirement plans.  
---
In-Kind Contributions
PreventionFIRST! has periodic needs for services and items (such as gift cards, tickets to entertainment or sporting events, etc.) and interesting venues to hold various events free of charge or at a reduced cost.  
---
For More Information:
Angela Cowart, Development Coordinator
acowart@prevention-first.org
513-751-8000 ext. 20